Celebrating Spring Success at ECS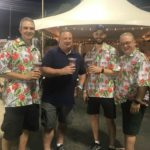 It's springtime and here at ECS, we are celebrating a hugely successful and profitable quarter with our annual Spring Employee Event! We kicked things off with our employee-planned Spring Luau, where prizes, food, and fun were had by all. The celebration continued at Bosse Field, a baseball stadium here in Evansville, Indiana, where we attended the Evansville Otters baseball game. Everyone at ECS wore their Luau shirts as we cheered on the Otters to finish a fantastic quarter.
Pictured here wearing their Luau shirts are ECS employees: Kurt Daunhauer, Tim Matheny, Roger Brauser, and Nick Scheutz.
Posted In: News