ECS Hosts University Professionals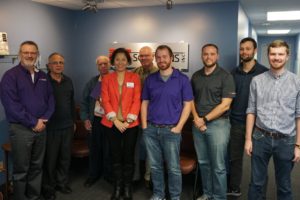 On November 1, 2018, ECS hosted an impressive group of Engineering Professors from the University of Evansville's Electrical Engineering Department. As ECS is guided by the principles of excellence in all we undertake and trust that we both earn and extend to others, aligning with the University is of the utmost importance as we grow. ECS is always promoting the training and growth of University students so that we may continue to have the best engineering candidates for employment.
Our distinguished guests included Dr. Ying Shang, Dean of the College of Engineering and Computer Science and Professor of Electrical Engineering. Dr. Shang's impressive bio even includes automation controls which synergizes well with our business and gives her a deeper understanding of the work we do here. Along with her other colleagues, Dr. Dick Blandford, Dept. Chair, Electrical & Computer Science, Associate Professor of Electrical Engineering, Dr. Tony Richardson, Associate Professor of Electrical Engineering, and Dr. Lotfalian, Professor of Electrical Engineering, the meeting centered around continuing to grow our partnership with the University. The afternoon concluded with a guided facilities tour and a reception. The afternoon was informative, fun and we look forward to working with these fine academics to continue to foster growth in their Engineering students.
Posted In: News