From Abandonment to the Bourbon Trail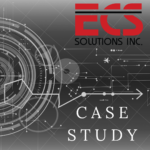 As part of a large revitalization of an abandoned distillery, ECS architected new automation to control the process from the grain receiving, through the mash cookers, fermentation and distillation, as well as processing and bottling.                                                                                                                                                                                                                                                                                          ECS designed and delivered a server/client architecture with controllers, I/O, motor controls, solenoid valves, and instrumentation for the project. More specifically ECS utilized a high-availability Stratus ftServer for a reliable host for Rockwell Automation's Plant PAx applications, including FactoryTalk View SE visualization and data collection into a Microsoft SQL Server database.
ECS utilized Rockwell Automation's latest and most powerful L85 ControlLogix controller and IO, Powerflex VFDs, and Endress & Hauser instrumentation to control the process. Operator stations consisted of thin-client, touchscreen operator terminals located strategically through the operations. A dual monitor operator station was installed in the central control room for primary control and monitoring of the process.
ECS performed simulations on the process control system to assure the software was thoroughly tested before going onsite. Operators were able to run the process at ECS' Evansville, IN facility during a comprehensive Factory Acceptance Test.
The system has been installed and operational, producing high quality bourbon for over 18 months and the distillery has been added to Kentucky's famous "Bourbon Trail".
Posted In: News