Full Automation and Integration of Batch Management Systems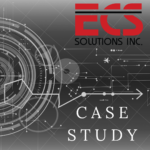 An established chemical company that manufactures powder and liquid coatings required the addition of a new reactor to meet increased demand and improve flexibility in their production. The existing reactor was largely manually operated and controlled, so the addition of a new reactor provided the opportunity to leverage modern technology and allow them to upgrade to a fully automated batch management system. Additionally, the company required automated control of the remote wells for water delivery to be incorporated into the new control system.
Sometimes the right choice is the easy choice
They could have picked many companies to help find them an automation solution, but they turned to ECS Solutions and the success they saw in our Total Process Automation approach. We recommended the installation of a Rockwell Plant Pax server-based batch software system that would utilize virtual images on a high availability industrial server and thin clients at the operator workstations. This system would also allow the control of their pulverizer system to be readily incorporated using an additional panel with Rockwell 1756 IO. The result was a turn-key process control system for the remote wells, the pulverizer, the new reactor, and the existing reactor.
The optimal additions
The hardware and the modules incorporated into the control system were selected by ECS to provide optimum flexibility, noise immunity and spare parts stocking requirements. The Allen-Bradley® ControlLogix® 1756 Series Controller, the IOs for the pulverizer reactors, an Allen-Bradley® MicroLogix® Controller and the wireless radios for the remote wells were all chosen by ECS to not only optimize productivity but to also increase the accessibility of the system. In addition, the operator workstations for both the control room and the new reactor were equipped with Intel® NUC thin client terminals that interfaced to a virtual HMI work station in the process control computer system. This system was configured with a Stratus® Technologies ftServer with VMWare virtualization and incorporated redundant uninterruptable power supplies and a Gigabit Ethernet system switch.
ECS: Exceeding the Customer's Standard
Through this project, ECS was able to go above and beyond the original expectations and needs of the company. A fully automated batch management system was designed and provided that allowed the company to easily integrate their new additions and increase the overall efficiency of the facility. Through systems integration, increasing automation, and improving the system's accessibility and ease-of-use for the operators, ECS demonstrated the profound effects that automation can have on a company's productivity.
Posted In: News