Intern & Co-Op with ECS
Home
/
Intern & Co-Op with ECS
Batches of Reasons to Join Our Team!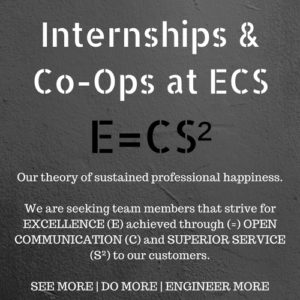 Our interns and co-op students do A LOT while working here! They get to do real engineering work—like panel wiring, HMI work, work in AutoCAD and more!
There are literally "Batches" of reasons to work here!
WHAT ARE STUDENTS SAYING?
~"Working at ECS gave me the opportunity to learn invaluable skills I will use for the rest of my career."
~"ECS provided an environment where I could be brought on to a project and contribute alongside the engineering teams within the first week.  As an ECS intern, I was given exposure to many aspects of controls engineering by writing code, building circuits, and touring factories."
~"There were many things I worked on outside of my goals as well. The thing I enjoyed a lot about ECS is that there is a wide variety of work here. Most days were completely new which kept things exciting."
~"One of the main goals of my first co-op rotation was to become certified in Ignition HMI software. In the first month of employment, I was able to finish the online Ignition courses and I successfully completed the core certification test by the end of July. The overall process was effective; the courses were clear and effective tools for understanding the program's format and the test provided great hands-on experience."
~"I've greatly enjoyed my first semester at ECS Solutions. There has been a lot to learn and everyone has been very supportive and happy to answer any questions. I'm excited to continue into next semester and get into some engineering projects, apply and build upon my engineering knowledge, and contribute more to the ECS team."
~"I gained experience working on real-world projects: 
Working with other companies
Working with modern industrial technology and techniques
Awareness of numerous steps involved in completing a project
Professional development in communication and project skills."
Real Hands-On Training
You can expect to gain hands-on experience in the following areas (aka–you won't be bringing us coffee all the time…):
PLC
HMI
Ignition Core Certification
ARSC Training and Certification
AutoCAD
Panel Fabrication & Wiring
Facility tours
Ready to Apply?
To learn more specifics, click HERE! 
__________________________________________
Or if you are ready to get started, you can submit your resume below!