Need help solving your batch manufacturing needs? Look no further than the Batch Brothers.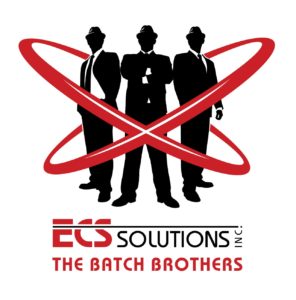 ECS Solutions is proud to focus on Batch Manufacturing. Assembling a team of experts, headed by industry expert, John Parraga, ECS is positioned to successfully tackle our clients'/prospects' toughest problems. We are more than a capable bidder, we are a valued consultant for our clients.
Throughout our journey, we will keep you posted on our progress, new members added to the team and the latest in industry news. Today we bring you our team leader's thoughts on some batch practices that will become more common in the future:
Batch Processes that are executed manually will follow procedures that are guided and tracked with portable electronic work instructions; electronic work instructions better report the activities the operators are performing, this data can be used to pinpoint opportunities for improvement and justify investments in process automation.
Being able to demonstrate in an expeditious manner how products have been manufactured is becoming more important in many industries, this is driving plants to use systems that allow to clearly specify how the products need to be made, enforce their execution throughout the process steps and capture the data to easily demonstrate how the product was manufactured.
Material Properties and Process diagnostics will be commonly used to dynamically adjust the formulation of active batches without requiring human intervention. (S88 control recipes)
Some of the existent Batch processes may be converted into continuous processes. This will require a high degree of automation and a clear understanding of the process dynamics and the materials.
Due to the total cost of ownership and the lack of engineering resources, manufacturers will rely more on OEM vendors to provide the automation required to operate their offerings as well as interface with other OEM equipment.
S88 Builder® is a model-based process control system used specifically for equipment control in a batch or continuous process control system. Based on best practices and 40 years of experience, ECS developed S88 Builder® to be one common application for controlling any process cell. The model provides an extreme level of both consistency and flexibility for equipment control throughout a process. The consistent model optimizes your process control system for top performance and quality, which lowers production costs and increases equipment availability.
Process manufacturing continues to improve, some improvements come from the implementation of new technologies others improve are motivated by economic or regulatory pressures. ECS Solutions looks forward to expanding our team and working with our clients to ready them for the future of batch manufacturing.
Posted In: News